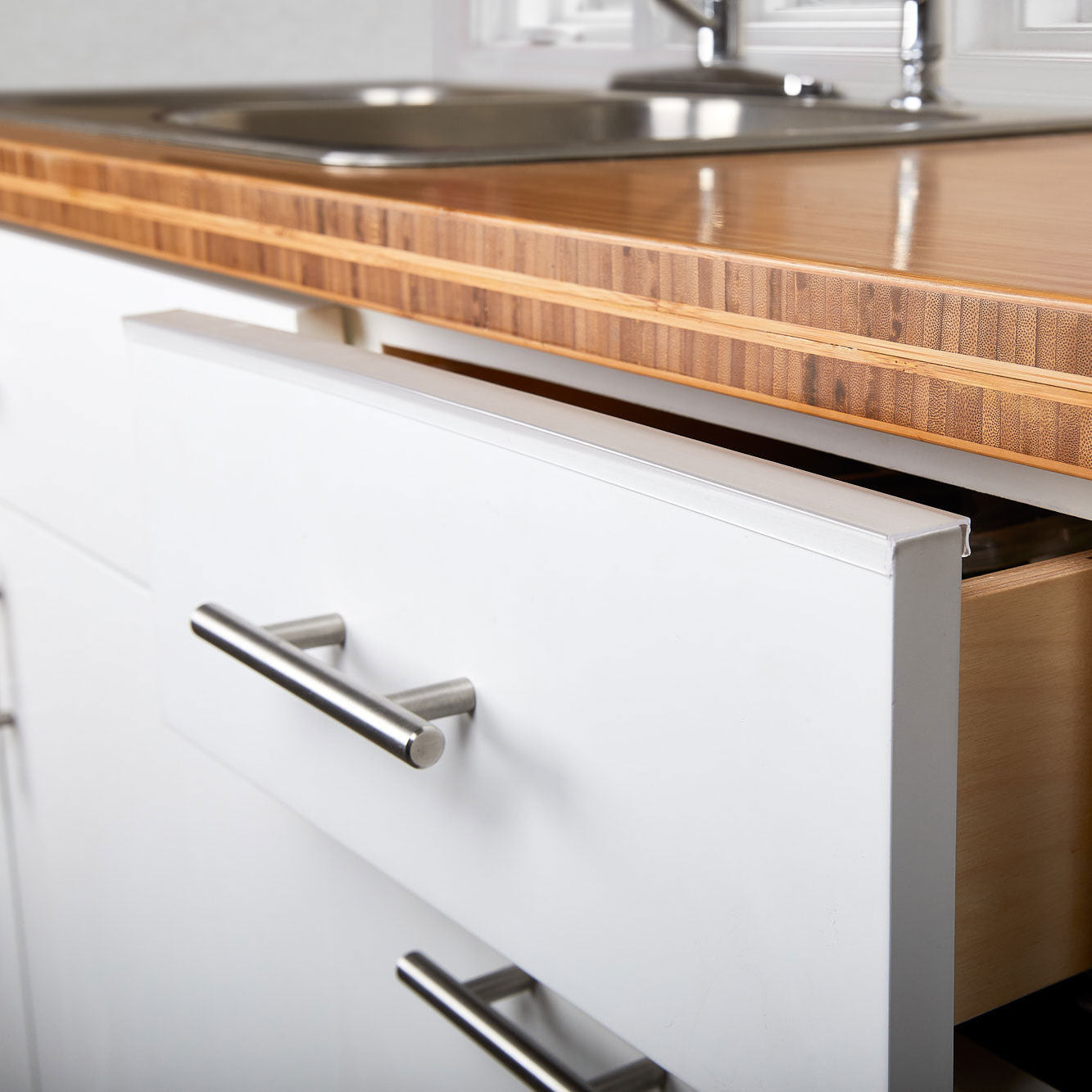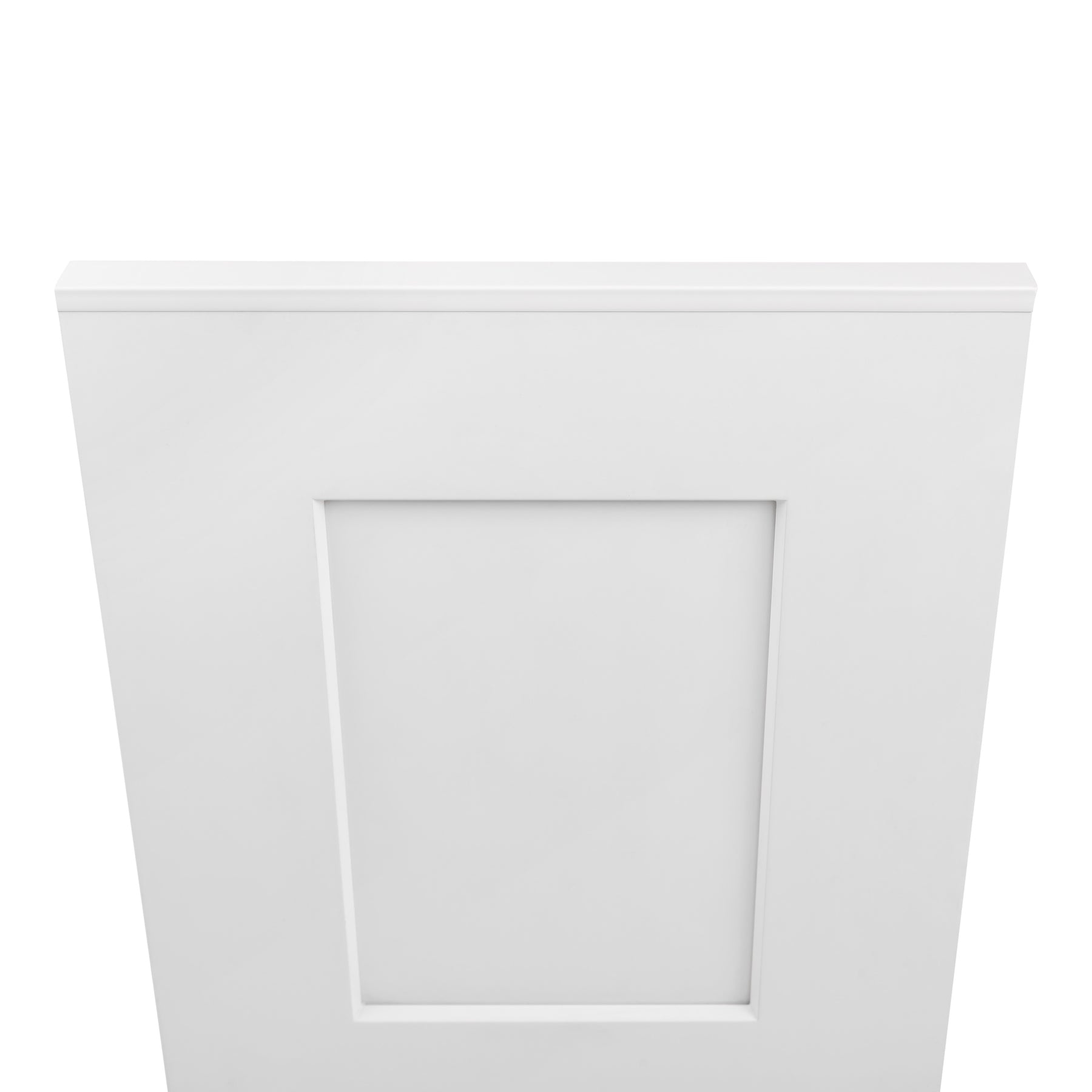 Slimline - Cabinet Hero Door Edge Protector
The "Slimline" Cabinet Hero product line is a low-profile slip-on cover to guard the top edge of a cabinet door or drawer front. The thin design can fit cabinets with tight closures such as face frame, Euro, and Inset style cabinets. It can also be placed on the side or bottom edge of a door/drawer to protect against nicks from brooms or vacuums when cleaning. This kitchen cabinet protector will fit a 3/4" thick cabinet door or drawer front measuring 18", 24", or 36" wide or smaller. Sold in quantities of 4, 12, & 30. Choose your length and quantity preference.
Before ordering, measure your cabinet door thickness by using a ruler or measuring tape to verify it is ¾ of an inch thick. Our Cabinet Hero Slimline will NOT fit doors bigger or smaller than 3/4". Please visit our "How To Install" page on our website for more information. 
Made out of a rigid clear plastic that is trimmable with heavy-duty scissors. Child & pet safe. 

PROUDLY MADE IN THE USA!

Easily protect your cabinets from daily wear, discoloration, chipping, peeling, and water drips without sacrificing your kitchen's appearance. No adhesive is needed to secure the guard. Simply slip the guard off when needed to reveal clean cabinets.

Very low profile "Slimline" version, fits onto the top edge of a door or drawer. It can also click onto the side and bottom of a door/drawer to protect from nicks.

US Design Patent # US D873,591 S & US Utility Patent # US 10,646,041 B1 -"Cabinet protectors are flexible, resilient U-channels for mounting on the upper edge of a cabinet door or drawer front to protect the edge from impact and wear".

Slip it off to reveal clean cabinets when guests come over.

Will fit Euro-Style and Inset cabinets.
All of our products are backed by our 30 day Stress-Free Guarantee. If you are not 100% satisfied with our products they can easily be returned for a full refund. For more information please visit our Refund Policy Page.
Do you love your kitchen? Do you want to protect this investment in your home and keep it looking new? With Cabinet Hero, you can guard your kitchen cabinets from water, dirt, grime, and scratches. The extra protection will extend your cabinet's life and reduce wear and tear. Simply slide our kitchen cabinet protector on the top of each cabinet and you will have your drawers and doors looking new for years to come. Have company coming over? Just slide them off in seconds and show off that new kitchen. Cabinet Hero products are also great for model home showings and rental units.
Don't let your kitchen down. Protect it today with Cabinet Hero!
Quantity: 4, 12, & 30 Packs
Lengths: 18", 24", & 36" 
Colors: Clear (100% Transparent), Black (True Black), White (Sherwin Williams Pure White)
Interested in protection in high water areas? Try out our "Drip Ramp" Cabinet Hero products which feature a drip ramp to keep moisture away from your cabinets.

Standard kitchen cabinet lengths to reference: Trash pull out door = 14"; Sink pullout drawer = 36"; Sink cabinet door = 18"
Cabinet Hero Slimline products come in 18", 24", and 36" lengths for cabinet doors and kitchen sink pullout drawers.
great addition to kitchen
Very easy way to protect cabinets. Fit on perfect and really can't tell unless looking at a certain angle. Will help to keep my cabinets safe with a active family!
Slimline - Cabinet Hero Door Edge Protector
Exactly what I needed.
Wife was not happy I kept opening the trash drawer and scratching the cabinet with my fingernail. This is now going to cause less headache's. Lol. Fit perfect, blends in well with dark blue cabinets and black hardware. Easy to cut. Awesome.
Love the product
Love the product & thank you for the print delivery
Slimline - Cabinet Hero Door Edge Protector